Welcome to the Ask the Ambassador section of my website! It is my intention to offer to you the accumulating talents I am gaining through my incredible relationship with a group of Beings that I and the good people along the western parts of Ireland call The Sidhe, which many others often call The Faery Folk, and whom you may call whatever you like, depending upon the story you are writing for yourself in this lifetime.
If you are looking for my services, then chances are you are requiring assistance with a very noble story. As you are most likely aware, I do not see the world that is advertised on the television or pervasively throughout the internet in my own earthly vision. I do not agree that the Twin Towers in New York City fell down as a result of burning jet fuel on September 11th, 2001, nor do I believe it was a Muslim-sponsored terror event. I don't believe a shred of the narrative being disseminated about the phony war on terror since that day, and I certainly do not subscribe to the falsified sciences that lie about almost every important element of Life merely to justify a perpetual fleecing of we, who have been made to be purposefully ignorant, so as to better endure their assaults on our lives in our dumbness.
I have endeavored to make my fellow man accountable to the incredible discrepancy between those terrible falsehoods told about that day and the glaring truth of credible science and common sense. In large part, this has been a disappointing adventure, if I were to base my success only on what humans can see with our physical eyes.
But, thanks to the many, beautifully creative expressions of Art in this world, mankind has a treasure trove of artifacts available to remind us that WE ARE MORE THAN OUR PHYSICAL BODIES. I was taught this through the mystery school religion of Christianity, particularly Catholicism, as well as in my post-Christian days by the agnostic approach of Robert Monroe, and the very intimate, sexy and surreal magic of those ancient magicians who stewarded the Earth with great love and care for Aeons before we lost our balance somewhere in the not too distant past.
My life has been a constant striving to achieve a sense of SATISFACTION. This is no easy task in a world stuffed to the brim with MADNESS and SUFFERING. But the reason I do offer my services publicly now is because I HAVE ACHIEVED what I desire in life with GREAT JOY!
This is no special gift reserved only for me. As Christians call the message of Christ their GOSPEL, literally Good News, so too, do I affirm the glad tidings of The Divine! Not too long ago, many of us on this planet used to, too. In our quest to be "modern" we have nearly killed off the most vital and important aspects of WHO WE TRULY ARE. Were it to be actually severed from the living, human form completely, there should not be much left to live for in this world, I posit.
If you agree with me on these basic suppositions, then I can confidently lead you to a greater understanding of your own capabilities with regards to your relationships with aspects of your life that are invisible and divine. My final premise is that you be willing to take 100% responsibility for the course of events that come into your life from this point onward.
The greatest life you can't even imagine right now is waiting only for your permission to get the ball rolling. Once I decided that I WAS WORTHY of the BEST that Life had to offer, only then did it begin to come pouring out to me in spades. OVID once wrote in his Metamorphoses that the Gods are not compelled to love us all and help each other equally. Humans must be willing to do for themselves the things that are within our reach to do, if we expect the hands of the Gods to meet our clasp and pull our lives upward into more glorious states of living. I verify this teaching in my own living.
There are a number of ways in which I can be of service to you on your quest for this lifetime's happiness. I am very skilled at reading the Tarot, having relied on its wisdom successfully to achieve the desires I have laid out for myself. I do not tell you what life has FATED for you in my readings. Together, we will discover the way to a destiny that you will learn to craft for yourself!
Because of my decades of spiritual and magical work, I also feel confident that I can be of assistance as a coach, mentor, or guide of sorts. This is why I am called an Ambassador. I live comfortably traveling between "worldviews" and can give wise counsel regarding the deconstructions and reconstructions of life that consequently begin to happen when one decides to live a life guided by the light of TRUTH. I am married to a shaman, as well, so the ordinary aspects of living are never too far away from a wonderfully unusual moment! In plain English, I understand and speak WYRD!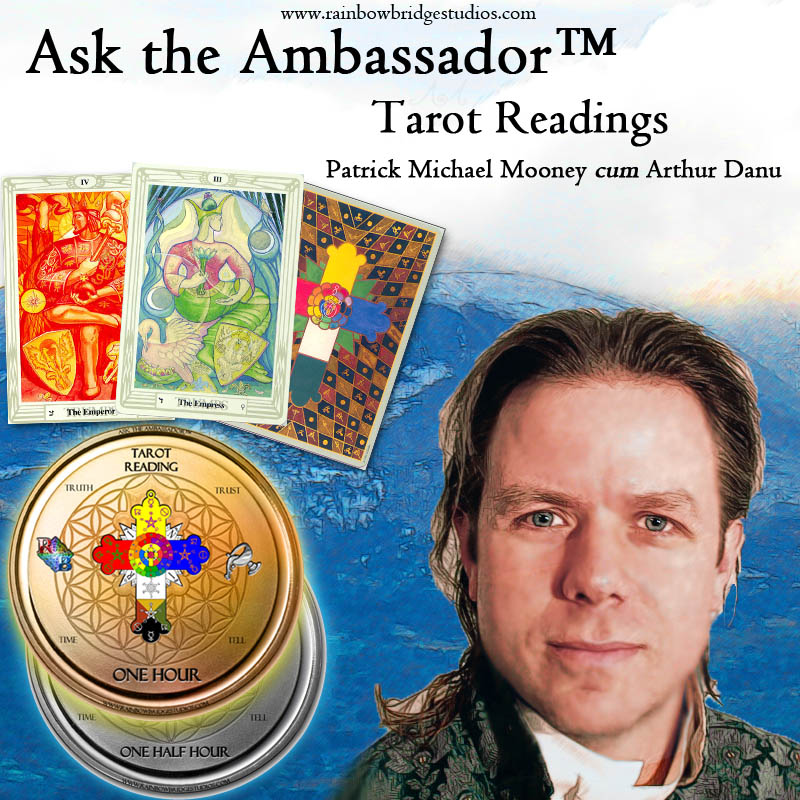 One of the roles I also acquired in this magical life was that of a Bard of the Realms. You can follow the evolution of my singing through the magical workings of A Decade of Love (2012-2022), elsewhere on this site and on the internet. But if you are planning a festive and cool event, or need some healing, joyful sounds in your environment, then think about booking me for your engagements! I can customize a show with you, as my voice loves to span many musical genres, or you can hire me as a kind of "human Jukebox", where I randomly mesh beautiful songs, guided by my intuition, to create an experience that is very pleasant to listen to.  I am open to singing and collaborating with other musical acts, too.
I also offer services as a public speaker and am available for interviews on other media outlets. If you are looking to bring to your audiences a challenging, entertaining and unique perspective on life, I would be more than happy to serve you in that capacity.
One of the greatest gifts I have joyously watched unfold within me is the talent for manipulating and producing digital media, from pictures, all the way to sound and video. So if you would like to contract with me for production elements on your own projects, then I'm interested in hearing from you. For example, I can do graphics for websites, audio engineering or mastering if you are a recording artist, or many aspects of video production, from start to finish. I specialize in Transformative Art, where the expression of our talents is utilized as a means of communication with the Divine for the benevolent nurturing and inspiration of humanity, as well as the articulation of desires that we wish to see manifest in the world.
Finally, my life in the service of Truth has taught me that nothing gets to the bottom of things and ignites the transformational change we are all looking to make in our lives than good old-fashioned love and attention. If you are struggling with some burden in life and just don't know what to do or where to go with it, then try what I like to call Compassionate Mediation™ with me. In a CM™ session, you will be given the time and the space to explore the issues troubling your life, and I will do my best to assist you in the process of being honest with yourself and discovering the value of your dilemma.
I have experience working with couples and individuals. Many times, I work in concert with my wife, Oksana, who is a very capable shaman and an excellent source of loving wisdom in her own right. You will find yourself in capable hands should you decide to place your trust in us.
Please be advised that I, nor Oksana, are licensed practitioners by any state of secular authority. We offer our services based upon our own personal integrity, life experiences and spiritual authority. We have the blessings of our guides in offering these services to you, and you should check in with your own ways of knowing what's good for you before you proceed further.
When you decide to do so, we'll be very happy to meet you!
The rates for my services are what I consider to be on the low end, and will likely only stay there for a very short time. I anticipate that demand for my services, perspectives and talents will very soon increase.
But while the getting is good, my basic rates for consultation and work that that might require hourly compensation is $99 hr, billable as half hour segments @$49. If a project requires travel and lodging expenses, these will have to be negotiated accordingly. In any relationship where my talents or services are exchanged for compensation, or from the generous nature of my heart, I expect to be treated with respect and class, as if my work actually matters. I will not engage in any activity where my integrity or my values are not respected.
If you grok all the above and wish to inquire further, please contact me at
Please mention the kind of service you are seeking in the SUBJECT line, and then pitch your question or proposal to me as briefly as you can. I will contact you shortly, and the terms for services and payment will be negotiated with you until we arrive at a number that is happy and fair for both of us.
POLLS
From time to time, I shall also post polls seeking opinions on aspects of my work or the thoughts of my readers. They will be archived below, for you to peruse and participate in at your leisure, as many of my polls will have long "open dates".
POSTS
I shall also answer interesting questions from my readers, clients, customers and fans, as well as quaint challenges from my critics, if only for the sport of it. I hope you are inspired by the exchanges that arise from my willingness to engage you this way.
Since this is my first foray into presenting myself to the world in this particular fashion, I expect my understandings and terms of service to evolve fruitfully. I thank you in advance for your patronage and support of my talents in this world. May we all come to know a better life because of it!
As They say in the Faery Realms, Bye for Now!
Magis! Gratis! Metis!
POLL ARCHIVES