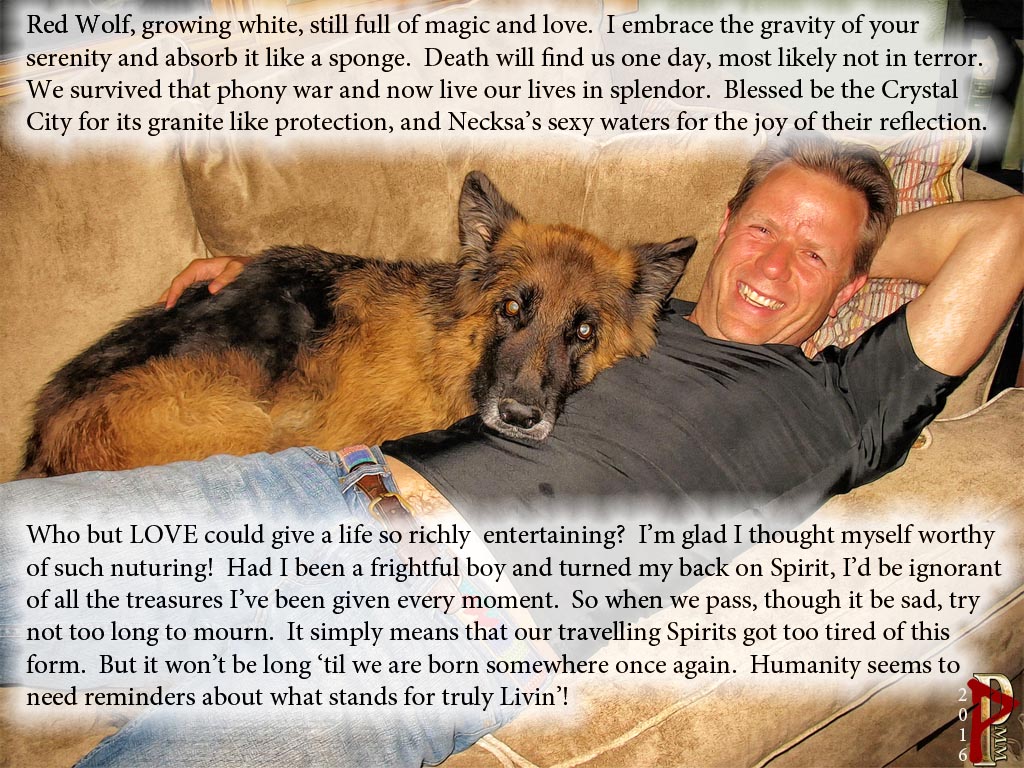 Today, I made another significant step in the evolution of this incredibly enjoyable life.  I deleted from my list of bookmarked sites within my browser, the last and best repository of insightful information and analysis about the unfolding madness of human current events.
I won't mention what site it was.  There are so many like that site on the internet these days, pretending to know what's what, yet never able to lead their readers anywhere but endlessly following THEM (the global troublemakers) on a treadmill of obvious bullshit, seen through a set of eyes growing weary with despondency for the future, or bitter and cranky about the interminable evil that simply, will not EVER stop.
My life is becoming far more important than the world I had been earnestly trying to alert through my media publications and creations.  The people of this world now have all the information for a lifetime of happiness within a keystroke.  If people, instead, choose to choke on their own ignorance while swimming in a sea of Truth, then so be it.  The Devil never steals his due.  It's given to Him freely.
The more I employ my own divine magick to the ends of life and liberty, I have been able to successfully find and create my own happiness.     It is no longer a pursuit for me.  In 2013, it became a journey that required me to leave America behind, to leave my old life behind, and to ultimately leave history behind.
With each passing moment, I breathe the air of a world that Christ called His Kingdom, that Tolkien called his Shire, that I and others call the Faery Realms.  It is a succulent and enervating breeze that flares my nostrils and fills my lungs with peace and quiet power.  It makes my cock and balls heavy with vital, sexy potency.  It makes me smile the smile of a woman satisfied; as well as that of the warrior who has finally found the peace he was fighting for.
Do you know the humbling awe of being heard by Nature, and furthermore, being answered by Her?
What other experience or knowledge or power could deliver a person out of the bondage of any condition?
My life is a lifting up now.  I see the future more clearly and it is not all death and destruction, my friends.  But a great many things have yet to be destroyed…including your fears about Death.
Make love to Her!  Understand that Her purpose is to love you into immortality.  She will kill and murder and destroy any part of you that is not worthy of the DIVINE LIFE that you hold dear in your heart.
Be clear with your fears and watch them disappear!
How brave are you willing to be for the cause of Love?
The intensity of your bravery will be matched in the feeling of your victory.  Do you imagine Love would send you on a goose chase with no hope of reward?  That's the Devil's business, whose major purpose is to challenge the strength of your commitment to TRUTH at every turn.
Blessed be the day when you can tell your adversary,
"Enough! You have served me well.  My foundations have been tested by the Architects of Eternity and have been found worthy. From now on, I build my works to the glory of my friends among the gods in peace and joy.  Trouble me no longer, but trouble the world to your heart's content, knowing your efforts are never in vain when serving the divine vanity."
I am rich in hugs and happiness and health.  My treasures are the smiles and laughter of my wife and the endearing way Ruby greets the sameness of each day with an eager and playful excitement.  My joy is watching the worthy unfolding of my reflections among the Gods and Elementals, masters of surprise to this joyous form  I currently inhabit.
Blessed be for ALL that is.  I welcome this time of coming abundance.  May I thrive in it as well or better than I thrived in the world of scarcity and lack.