The Vale of Danu, Washington Colony – "16 years of swallowing the bullshit lie of 9/11 has made America and the world sick and on the way to mortally wounded!  But the Gods have their champions well-placed for the coming Ragnarok, and Arthur Patrick Danu intends to ROCK OUT!"
Arthur pressed ENTER on his keyboard with joyful glee!  Another entry in the beautifully evolving Book of Danu had been born with the same, ever-present, joyful release as all the previous works of magickal and divine satisfaction.  The work is presented to you here, now, dearest reader!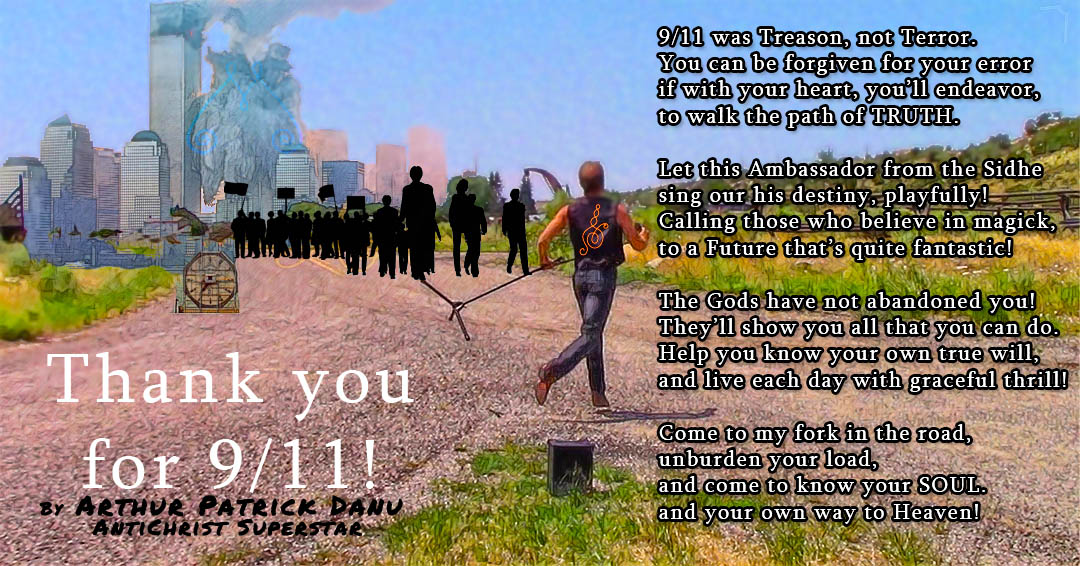 How HEALED am I of the brutal, soul scarring events of that still unaccounted for day of treason?  That question can only be answered by saying that I AM THE HEALING OF MY OWN PREVIOUS IGNORANCE AND EVILS. I HAVE ACCOUNTED FOR IT.  THE BALANCE HAS BEEN PAID.
As Arthur Patrick Danu, the Grail  King and Kokopelli of Karaoke, now returned to my human family as an Ambassador from the Sidhe, I choose to sing joyfully about the HARMONY that happens AUTOMATICALLY when one decides to align themselves with TRUTH, and resolve to act RIGHTLY in the face of ignorance and adversity.
As a king, I honor the fallen and the victims of this horrible lie on all sides of the conflict.  I especially honor those that sought, and seek to end all conflicts by the means of PEACE, which means a courageous, soul-searching look into the dark-heart of your own, sordid, personal affairs, with a courageous resolve to love oneself into WORTHINESS and HEALING.
This is the pure essence of the grail magic that I have witnessed as the personal results of the arduous and inspirational attitude of the white wizard, Patrick Michal Mooney, who began casting A Decade of Love musical spell back in 2012, opening a way for his personal timeline and that of this planet to be transformed in a warped and twisted way, joyfully….wyrdly so, than from what David Rockefeller and The Bush Crime Family ….and also, ultimately YOU…brought into existence on the September day of 16 years ago.
The signs of a great shake up are beginning to be felt on the winds of the land that used to imagine itself impervious from all kinds of "real, nation-threatening harm".  People have their heads buried in their phones and routines, hoping not to disturb what has now become the "joyful desperation" of human existence.  That's better than being nuclear toast.  A devil's bargain of my invention that's always fun to watch the ignorant soul take a big bite of.
As the picture and poetograph suggest, the world is more and more everyday getting closer to what seems to be a "collective crossroads moment", where it just becomes obvious that the architects of 9/11, which includes the present administrations of almost all the globe's governments, right down to the local levels, supposedly independent of each other, are determined to shove a lie down the throat of humanity for all time, by the most ugly and thuggish means necessary.
The assault hits our children first and hardest, not only through harmful vaccinations that limit their physical and emotional capability to have JOY and FREEDOM as their FOUNDATIONAL CHILDHOOD EXPERIENCES, but through the now obviously poisonous religions of all stripes which indoctrinate an intolerance for everything and a very bible-loving lust of genocide and every brutal behavior a "righteous god" can grant for the smiting of infidels!
And it is becoming more obvious everyday that the human body is being set up for a life of sexual assault and bodily invasion as a form of BEHAVIOR MODIFICATION in order to protect the liars from those who would be their accusers and discoverers.
Mix in purposely created divisions along RACIAL LINES, add lots of ALCOHOL and TELEVISION, with a good dose of PHARMACEUTICALS and finish it off with endless varieties of sports and genetically modified, death accelerating foods and the masterpiece for a  MISERABLE LIFE is complete!
Forget all that CRAPOLA!  REMEMBER your divinity!  You and the LAND are ONE!  In you, is the power of The Sun and all The Stars you can see!  In you, is the love of a very sweet Earth, who recycles you through timeless eternity to discover and experience your greatest joys over and over again, at your pleasure!  In you is also my Brother, The Moon, who is also my sexy Sister, the androgyne reflection of ME on the stage of starry sea!
And still more of ME comes from beyond your present GALAXY!  "Your"…like you could ever "own" such a domain! Human language is so stifling!  Human minds are ever-numbing themselves against the truth that would bring them healing!
I sing for those who have  the FAITH to find their own joy!  You sense a rebellion in me, but I tell you there is NONE, nor do I see one in Heaven!
God, the One, says……blah…blah…blah!
God, the Three, says Weave Thy Will as Thy Joy…WE'LL take care of the DETAILS!
Gods, the Many say I desire my joy reflected THIS WAY and THAT!
And so Angels and Faeries were created to settle the spats that would arise, and do arise, eternally, among competing and cooperating Powers and Divinities.
And all of these thus empowered the Elementals to take care of the most routine and LIFE SUSTAINING functions for the creation and recreation of "playing fields" for the acting out of divine dramas, of which MANKIND was created to ACT OUT on the central stage of LIFE, just as the many other LIFEFORMS that inhabit this and all universes.
If things aren't working out in your favor now, one tends to become a seeker, to find out why.  Find out you will, if you remain true to your truth.  But so many take the bargain of convenience and expedience and necessity.  This is always selling your own divine natures short, and the life you live FEELS LIKE how much you've sold yourself out, no matter how pretty one might look on the ever-seductive, sometimes SEXY surface of REALITY.
And in SEX is the snake, and the division, yet also the reason for livin'.
You think God doesn't enjoy a good blowjob?  You think the orgasm of the woman satisfied is only a myth? One must PENETRATE these MYSTERIES to KNOW the DIVINE Ecstasy!
Hence the wisdom and harmony of the NATURAL SYMPHONY!
The orchestration of events that lead to the moist and sensual moment of CONTACT, felt across all the boundaries of CREATION by EVERYONE who participated in the creation of that moment!
ABUNDANZA! GRATIS!
In natural, law-abiding physics, there's no way that the three World Trade Center Towers fell by the result of burning jet fuel, as the treasonous politicians and scared civilians have touted and parroted like wirelessly controlled drones since that fateful day.
In true physics, and magic, every action has an equal and opposite reaction, except that in magic, it comes back at you three times, just because Nature likes to take the time to make a good point!
So instead of 16 more years of terror, how about 49 years of jubilee and love? (Imagine more, or less, years than that, if you'd like, but get the ball rolling in a positive direction!…kapeeesh?)
The most important step in the road to healing is to admit the mistake and turn away from it, resolving not to make the mistake again.
As an agent of God's Holy Angel, who is empowered to fulfill his duty of love by the full measure of his creative talents, He can employ deception as a test of WORTHINESS to HIGHER STAGES of KNOWLEDGE and JOY, as well as POWER.
This worthiness can't be bought cheaply like all of today's nearly worthless academic degrees, who's core integrities have become compromised like termites in the framework of your homes because they have been bought up or forced into silence to comply with the compelling lie of the status quo.
But now comes a CHANGE by the Harmonious power of ALL THINGS.   I didn't make this stuff up.  The STUFF made ME UP to say these things and dance like the way my ass has always wanted to groove.
That's the healing love of Sweet Danu!