Arthur trudged a strong path through the fresh morning snow, with Ruby, his Red Wolf,  running wildly all about him, creating wonderful zig-zags across the straightness of his furtive, sullen walk, that left more of a trench than a trail on the unscored, virgin ground.
His mood was a bit heavy, much like the dark, windy mists that obscured the view of his mountain meadow, his Vale of Danu, and Danu herself, the mother mountain serving as his Guardian Apu.
Dutifully and daily, Arthur went to his place to pray; a circle of white Faery flags that cleansed the air as well as his spirit as they stood purely and bravely against the ravaging of time and elemental forces.  Even in their ragged form, they inspired a regal feeling and brought Arthur's mind roundly and firmly into thoughts regarding the business of his day.
First, and always, GRATITUDE escaped Arthur's lips, even in times where his human confusion led to feelings of physical or emotional exhaustion while the Grail Magic fought to renew the human form of his present inheritance and conjuring.  Ever was there the SUCCESS of true COMMUNION with the Spirits and Deities Arthur invoked and saluted for their contribution to his continuing mythical story.
On this particular morning, Nature again revealed Her comprehension of their interaction by Her processing of a wonderful display of Elemental coordination.   As if on cue from a Hollywood director somewhere off-screen, the dark mists which blanketed the valley began to swirl and blow in Arthur's direction.  It was as if the mother-mountain wished to see Arthur, too, and was blowing the mists away with her mighty lungs.
Up above, the God of the Sun and one of the masters of music, Apollo, met those whirling winds with his flaming rays, revealing the undulating vibes of those swirling mists like New York disco lights.  Suddenly, blue skies instead of gray promised to win the battle for the day in the Northwest Pacific woods.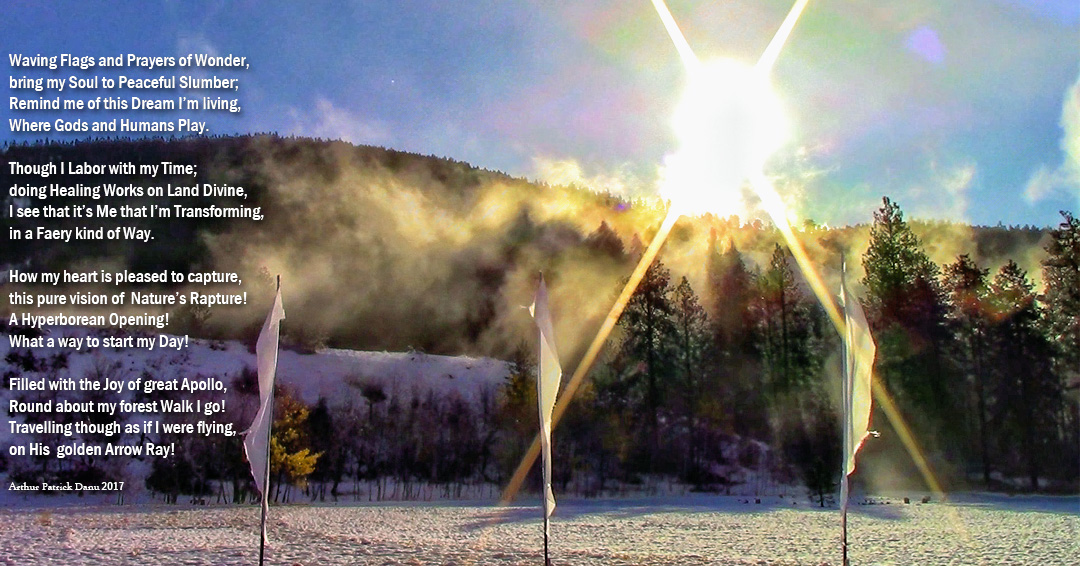 Arthur was impressed, as ever, before the still-revealing natural splendor, and took several long moments in silence to appreciate such a created answer to his morning invocations.
Emboldened by the display, Arthur decided to PLAY, and he called upon Apollo to fill him with the power of a skywalker that day.
Presto! Bam! Kram! KaZOOM! Arthur grabbed his ass, his MOON! Noticed that his form was rounding, his balls got heavy, soon he was sounding like a pleasure train in his fleshy domain! "Let's race this body! I feel no pain!" Arthur said to no witness but those furling flags.
"Whatever pain fills our bodies, doesn't all seem to be there naturally.  I'm certain that behind our maladies are certain kinds of mentalities; that a shift in attitude seems to remedy." The grail magic was working on his mind as well as his body, and the proverbial "uphill walk in the snow" was an exercise in ecstatic liberation.
By the end of the walk, which had not taxed Arthur in the slightest despite the most vigorous pace he reserved for New York City streets, his mind and body were put to balance and his heart went towards the love of his wife and the labors of his day.
The heaviness Arthur was feeling was somewhat celestial in its meaning.  There was Saturn squaring everything, truing all things without rushing. This clashed with Arthur's springtime spirit, that seeks for pleasure in each instance. And with Neptune still in retrograde, the lack of details had our king dismayed.
"My voice, I know, you constantly polish. The mead of Giants I have relished.  It heals my heart to sing! But how much more shall I strive to furnish the fortune that thrives, from the blessings of our ring?"
In other words, Arthur felt very rich and grateful for all he created through his use of natural magick in this churning moment of space-time, but at the same time, felt the limitations of human existence that his grail magick had come to heal. When would the Stars reveal the work they've been hiding?
The Hyperborean Gate that opened before Arthur that morning was a sign, sure and certain, that his answer would be soon arriving.  Through that portal was an Empress-like, Phoenix energy, stepping out into the world like a little girl walking in the summer sun.
Something Fun had begun!