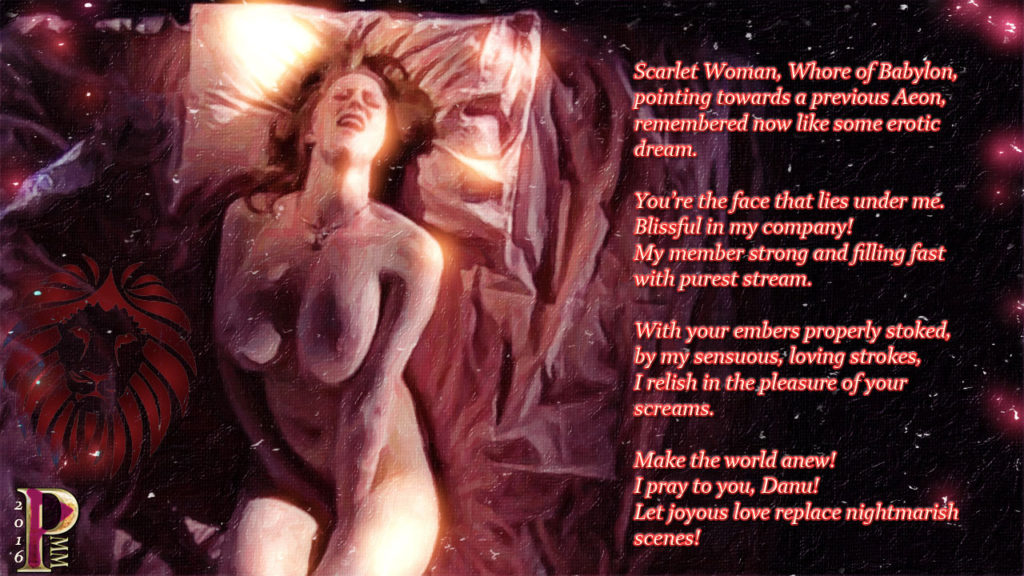 Dale of Silvermoon, CO Colony –    Now that the victory of president-elect Donald Trump is beginning to feel like a used condom after a night of sloppy, drunken sex, even amongst his own supporters,  it's good to be turning our short attention spans once again toward the task of building something better and more wonderful than the world you've been complaining about.
The good news is that, while the work is challenging, arduous, and part of a karmic balancing act, it is also full of wonderful, sensual, truly loving sex magick, that will set your Soul on fire with a DESIRE to live the divine life again.
Because if you don't have that desire to know the divine in this life, with a gusto and passion that will not be denied, you will be denied.  Let's make this point really clear and simple from the get-go.  There is no false advertising on this road you might be thinking about traveling, but it is full of illusion.
This illusion is your gift to your Self, just the same way that you gift yourself the pleasure of sitting in front of the television and watching your favorite movie, or reading your favorite screeds, whether on screens or in scrolls.  And just like some movies can be vividly real for you, so too, can the divine life reveal itself as super-luminously real.
I pray that this experience comes true to each and every one of you.
What experience?
See?  I can only point to the thing I'm talking about with these words and pictures, but Sidhe's as real as that beastly passionate woman orgasming all over this website through the portal of my poetograph.
I don't think my Mother had too many moments like the one depicted here, despite delivering five boys to the world for the continued glory of the Roman Catholic Church.  She knew a lot of pain in her life, on all levels, for long stretches of years, finally finding Death the way a tired Soul might collapse in the desert for lack of water.
As her son, wrestling with the emerging consciousness of my own divinity, I sought to unravel the knots of suffering that so strangle the Irish Soul, the American Soul, the World Soul.  What Victory could a Son deliver to a suffering Mother other than to live a life of Joy?
So my love for women grew.  And my cock grew. And our pleasures multiplied; those who fancied spending time with me in naked repose, enjoying life before we died.
The search for sexual ecstasy is the dance of the divine.  If you're going to step onto the dance floor, only your best moves will get you the partner you're looking for.
Here's another guideline that's best said in the beginning, middle and end:
Truth is your best move.
Yes.  That means rejection from other people.  Lots of it.  You're just gonna have to get used to that until it isn't like that anymore.
It won't be like that anymore when there is a greater understanding of how the divine manifests in life through the intelligent, conscious workings of Nature.
The only way you can contribute to that work effectively is to make sure it is accomplished inside of you.  By that time, you will be in Paradise, whether the world is there with you or not.  It won't really matter at that point, even if you're a Bodhisattva.
The work is done without a LUST FOR RESULT, even though Lust is the starting point of our journey and a key component and lesson in the successful undertaking and completion of the work.
What's all this talk about "work"?
Foolishness, really.
Does the Sun work?  Is the Celestial Throne built upon toil?
The poet William Blake looked to the sun and saw choirs of angels surrounding it, singing Hallelujah a lot better than Leonard Cohen ever did.  If you listen to this that kind of Pythagorean music, I think you'll notice there's an element of joy that's blazingly obvious.
Cultivate joy.  As a son of Pan, sexual pleasure is a true joy in this life, and it certainly has been  a big part of the criteria I've set for a joyful life.  You can set your criteria whatever way you want.  This is an abundant universe that will lovingly respond to your will.
This was the great wisdom of Aleister Crowley's Thelema.   True magick reveals that each individual can cultivate a relationship with Nature that is as deeply personal as your desire to find someone who truly understands and sees you for who you truly are.
Once you have this, deep down to your root chakra and invested all the way up your spine to your serpentine crown, then you become a Pendragon, and you may create the Camelot of your own heart's inspired imagination.