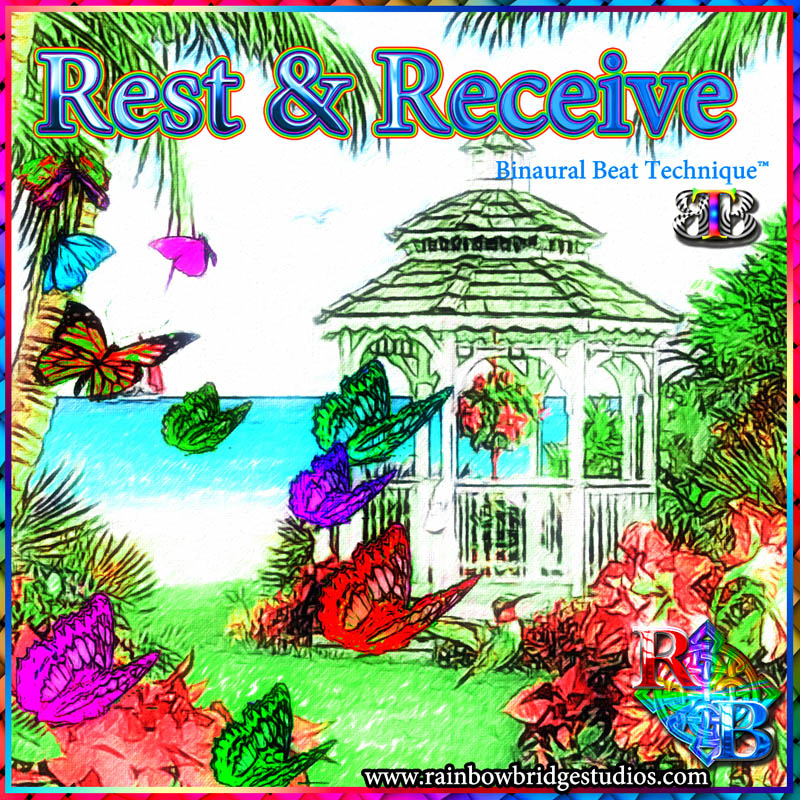 I AM proud to announce the latest release from Rainbow Bridge Studios called REST & RECEIVE.  This is an audio exercise created in collaboration with fellow artists Violaine Phillipe-Walker and Oksana Zielinski.  Violaine scripted a guided meditation inspired by the sacred practices of Yoga Nidra.  Oksana Zielinski provided her beautiful voice, and I produced and engineered the soundscape with my trademark Binaural Beat Technique™, honed in part by my many years of experience studying and working for The Monroe Institute, and augmented with the powers of ancient magic and shamanism.
In Yoga Nidra, as in the practices taught to me at The Monroe Institute, and other countless ways of encountering the Invisible Worlds throughout the Ages, one is required to be still.
The body is brought to a state of relaxation and the experiencer is then guided to shift his or her awareness to the point where one notices that one is sleeping.  In the language of the Monroe Institute, this is "mind awake/body asleep" and is the foundation upon which all other states of consciousness are discovered and explored in their programs.
On the outside, to the perception of others, it appears merely that you are sleeping, or just lying down, "doing nothing", and with "nothing happening."
That observation couldn't be farther from the TRUTH of it!
The story of what has happened in my inner worlds is the story of my life!  It is the most fascinating and entertaining, richly rewarding and gratifying experience I have ever encountered, or care to encounter.  Whatever you may think of your own life, I hope it is at least as kind as that!
If it isn't, wouldn't you like it to be?  How can you not be the most important person, place or thing in your own life?  Think about it!
It is so easy to get seduced away from ourselves into the problems and trials of others.  Good for you for being a concerned human being!  That's important, too.  But, if we give beyond our capacity to give, we feel used up and burned out.  Then, we're most likely not to feel useful or good to anyone, especially YOU!
I find it to be no accident that the truly modern, technological experience of using binaural beats can find such resonance, harmony and synchrony with ancient practices of exploring and altering human consciousness.
I encourage you to give REST & RECEIVE, or any of our other Binaural Beat Technique™ titles a shot at making your library of personal transformation products.  Each title is beautifully crafted using world class techniques that have changed the lives of many thousands of peoples worldwide, and will continue to do so.
One of the greatest things you may discover for yourself is just how CREATIVE and LOVINGLY INTELLIGENT this universe truly is.  Then, life is truly one of RESTING and RECEIVING.  In that, there is the CONCEIVING of a world so delicious for you that you can hardly believe it to be true.
But on the OTHER SIDE of the RAINBOW BRIDGE…IT IS!
We hope you'll see (hear) for yourself!